SenHaiX SPTT-100 and SPTT-N60 passed the test and obtained the CE certificate.
The CE certificate issued by Notified body 1177, TMICCO Engineering, Inc.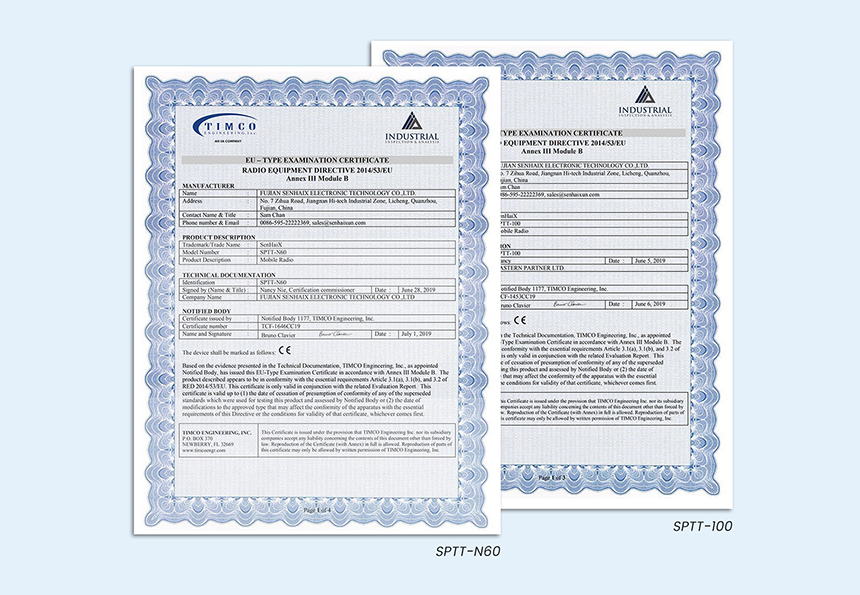 It means that SenHaiX Mobile Radios are fully compliant with EU requirements and have the necessary conditions for entering the European market.
Many products require CE marking before they can be sold in the EEA. CE marking proves that your product has been assessed and meets EU safety, health and environmental protection requirements. The CE marking is the manufacturer's declaration that the product meets the requirements of the applicable EC directives.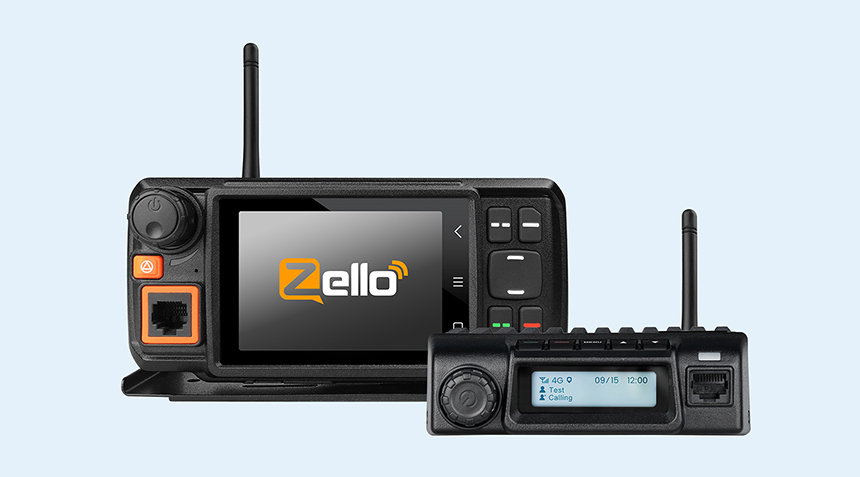 SenHaiX SPTT-100 and SPTT-N60 are 4G version now, which different from 3G version before. 4G version software and hardware both upgrades, and with fully frequency bands, cover 2G, 3G and 4G network, suitable for more countries.
SPTT-N60


3G
4G
OS
Adroid 4.4.2
Adroid 7.0
CPU
1.0GHz
1.2GHz
RAM
512MB
1GB
ROM
4GB
8GB
Hot-Plusgging
-
Support
ACC POWER OFF
-
Support
Port
1.USB2.0 High-Speed
1.USB2.0 High-Speed
(support OTG, support USB camera)
2.External speaker Audio
2. External speaker Audio
Frequency Bands (EU)
WCDMA: Band 1 / 8
GSM: Band 3 / 8
TDD-LTE: Band 38 / 40 / 41
FDD-LTE: Band 1 / 3 / 5 / 7 / 8 / 20
WCDMA: Band 1 / 2 / 5 / 8
GSM / GPRS / EDGE: Band 2 / 3 / 5 / 8
Frequency Bands (US)
WCDMA: Band 2 / 5
GSM: Band 2 / 5
FDD-LTE: Band 1 / 2 / 4 / 5 / 7 / 12 / 13 / 17 / 28a / 28b
WCDMA: Band 1/ 2 / 4 / 5
GSM / GPRS / EDGE: Band 2 / 5
SPTT-100


3G
4G
4K/8K Sound Quality
-
Support
SOS Function
-
Support
UTC Set
-
Support
Customized
Power On Picture
-
Support
Frequency Bands (US)
WCDMA Band 2 / 5
GSM 850 / 1900
FDD-LTE: Band 2 /4 / 12
WCDMA: Band 2 / 5
Frequency Bands (EU)
WCDMA Band 1 / 8
GSM 900 / 1800
FDD-LTE: Band 1 / 3 / 5 / 7 / 8 / 20
TDD-LTE: Band 38 / 40 / 41
WCDMA: Band 1 / 5 / 8
GSM: 900 / 1800MHz
Frequency Bands (SA)
-
FDD-LTE:b1/2/3/4/5/7/8/28
TDD-LTE:B40
WCDMA:B1/2/5/8
GSM:850/900/1800/1900MHz